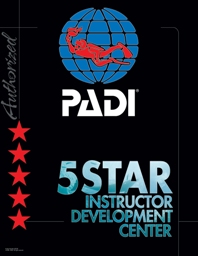 St. Croix Ultimate Bluewater Adventures (SCUBA) opened on July 15, 1998. Longtime island residents Ed (35+ years) and Molly (29+ years) met while working for the same airline, a Caribbean subsidiary of Eastern Airlines. After the demise of Eastern, Molly and Ed didn't want to leave the island that they loved so much. Ed was a NAUI Instructor (Molly was his first student) and Molly had retail background from college so they started working for what was then the oldest dive shop on the island, V.I. Divers, Ltd.
Anyone who has ever owned their own business knows that if you're going to work that hard in a business it should be your own business.
It took several Margaritas at Luncheria (see our restaurant page) to come up with the words that would make the acronym SCUBA. Same thing with the logo.
SCUBA started out with a small retail dive shop in Christiansted on St. Croix and no boat or dive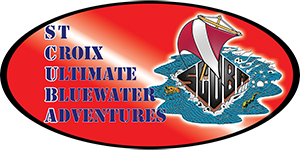 equipment. Within the first six months V.I. Divers, Ltd., sold the diving equipment, compressor and rental gear to Molly and Ed and the dive boat Reliance was soon added.
In October of 2017 SCUBA added a second location in Frederiksted on the west shore of the island. While they had always operated a west shore dive boat the addition of a full service dive shop has been great.
Ed and Molly Buckley

Owners

Cory Harner

Dive Staff

Curtis John

Dive Staff

Jeff Gay

Dive Staff

Jo- Buckiewicz

Dive Staff

Joe Starkweather

Dive Staff

John Gillette

Dive Staff

Lance Eberly

Dive Staff

Liz Czok

Dive Staff

Matt Newsome

Dive Staff

Mike Gayle

Dive Staff

Patti Stewart

Dive Staff

Simeon Tolar

Dive Staff

Stephano Dubuc

Dive Staff

Adam Reaume

Shop Staff

Alex Poisson

Shop Staff

Brett Mello

Shop Staff

Erin Layton

Shop Staff

Francheska Parilla

Shop Staff

Joel Sewell

Shop Staff

Mike Cook

Shop Staff

Zac Bozzo

Shop Staff

Nitrox Dawg

Mascots