Beach Hotel? Waterfront Hotel?
These should be the first questions you ask yourself.........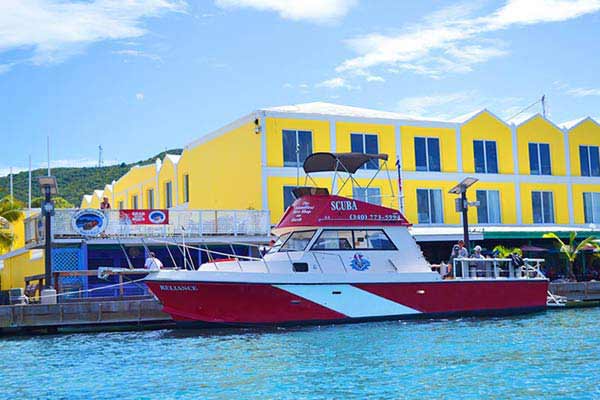 There are some beautiful beach hotels around St. Croix and there are also some great hotels on the waterfront in Christiansted that, while not on a beach, are very convenient and right on the water.


There's a new Boardwalk that runs throughout Christiansted Harbor from the seaplane base at one end to the historic area run by the U.S. National Park Service at the other. There are three hotels on the Boardwalk that are all within 100 yards of our dive shop and the dive boat.
Waterfront hotels on St. Croix

Caravelle Hotel
Our dive shop is located right at the hotel and the north shore dive boat departs from directly in front of the hotel.
The hotel has just completed a $4 million upgrade and is great. There's also a brand new casino located at the hotel.
Check out the Caravelle Hotel website here
---
Holger Danske Hotel

This hotel is right next door to the dive shop. It's situated on the Christiansted Boardwalk, overlooking the harbor. The hotel's fresh water swimming pool overlooks the beautiful Caribbean ocean. Angry Nate's restaurant is one of our favorites and it's located right at the hotel. This hotel is typically the most economical.
Check out Holger Danske Hotel's website here
---
Club Comanche / Hotel St. Croix
A historic hotel located just a couple of hundred feet from the dive shop. This charming hotel has been lovingly restored and furnished with West Indian antiques and replicas. The uniquely clean and spacious rooms provide all modern amenities to guests including free internet access. The new 40 Strand Street bistro (run by two of our former Instructors) compliments the Rum and Wine Bar at the hotel.
Check out Club Comanche's website here
---
Beachfront Hotels on St. Croix
Hotel on the Cay
This is the nearest beach hotel to our main location. It's located on its own island in Christiansted Harbor. They have a ferry that goes to the Boardwalk in less than a minute. Once on the Boardwalk it's easy walking distance to not only the dive shop but also restaurants, bars, shops, etc.
Check out Hotel on the Cay's website here
---
The Buccaneer Hotel
Caribbean Travel & Life recently named The Buccaneer as one of the "Top Ten Classic Caribbean Hotels." Each room features a private patio or balcony for maximum enjoyment of the spectacular views and cooling breezes. Conveniences include air conditioners, small refrigerators, safes, hairdryers, telephones, satellite television, irons and ironing boards, coffee makers, shower/bath tubs, double sinks and ceiling fans. Some rooms have soothing whirlpool tubs. There are also very luxurious villas available. The resort has an 18 hole golf course, tennis courts, two swimming pools, three beaches, and a spa.
Check out The Buccaneer Hotel's website here
---
Sand Castle on the Beach Hotel
This is a small but quite nice hotel on the west end of the island. Our second dive boat is based just five minutes away at the famous Frederiksted Pier. They have two swimming pools, a gorgeous white sand beach and great snorkeling just off shore. The Wine Spectator Award winning restaurant, Beachside Cafe, is located at the hotel.
Check out Sand Castle on the Beach's website here
---
Palms at Pelican Cove
Their 40 beach front guest rooms are clustered in two freestanding buildings designed with your comfort and privacy in mind. Each and every guest room has its own separate patio or balcony, complete with a sea breeze and infinite view of the sea or garden. Great swimming pool, tennis courts, and very good restaurant.
Check out the Palms at Pelican Cove's website here
---
Tamarind Reef Resort
This St Croix hotel features 40 beachfront rooms in a peaceful setting with two restaurants: 1 casual, 1 fine dining; a great seaside pool; professional lighted tennis courts; fitness center, spa with massage, nail and hair care; 154 slip marina with charter boat excursions; meeting lounge and event space. The 40 acre St Croix resort is on a spectacular snorkel beach nestled into an architecturally stunning residential neighborhood bounded by the 100-acre Southgate coastal reserve.
Check out Tamarind Reef Resort's website here