Arriving By Cruise Ship?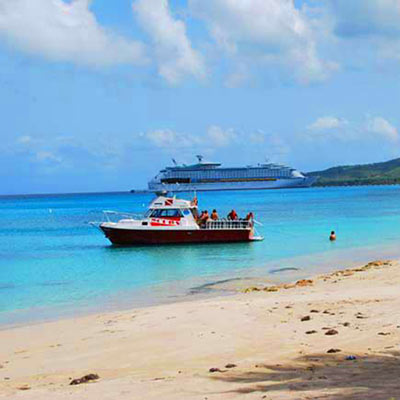 Congratulations, just by the fact that you're reading this it means that you're researching scuba diving on St. Croix that ISN'T arranged by the ship. You'll probably save a few dollars and you won't be herded around with the crowd.
We have two choices for guests visiting St. Croix from a cruise ship.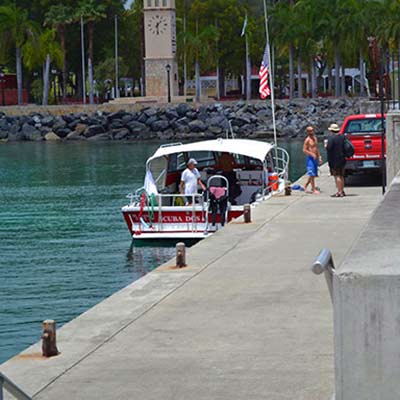 Our west shore dive boat Scuba Dos departs from directly off of the cruise ship pier at 9:30am and 1:00pm and does two-tank dives on the wrecks and reefs along the west end of the island. Travel times to the dive sites are normally less than 15 minutes and you'll be in sight of the ship at all times (other than when you're underwater).
Even though this is a pretty large (31') boat we limit it to 10 divers to ensure that everyone gets the personalized service for which we're known. You won't be crammed onto a crowded boat.
The picture to the right is our boat as you would see it walking along the pier from your cruise ship.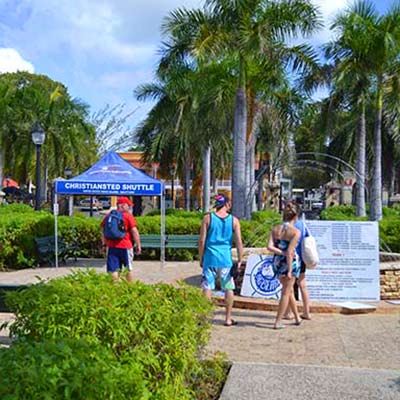 Our north shore dive boat Reliance departs from the Christiansted Boardwalk at 930am (on cruise ship days--normally it's 8:30am) and does a wall dive followed by a reef dive. It returns to Christiansted around 1pm. It's about 35-40 minutes from the cruise ship pier to Christiansted. There's a shopping Christiansted shuttle that does the trip for $16 roundtrip. Taxi vans are also available at the Pier.
The picture to the left is the Christiansted Shuttle booth on the cruise ship pier.
If you're NOT a certified diver you can still experience the wonderful underworld that surrounds St. Croix during your cruiseship stopover.
With our Discover Scuba Diving program, we'll take you to the nearby Sand Castle on the Beach hotel for some easy training in their swimming pool at 9am. You'll be back from that training in time for lunch, then you'll go out on our dive boat, right off of the pier, at 1pm for two different dives on two different dive sites and be right back on the Pier at 4pm in plenty of time to catch the ship.