St. Croix Activities
This page is under construction. Updated August 20, 2023

The island's 28 miles long by 8 miles wide (at its widest point) and is very diverse with arid conditions and cactus growing on the east end and a rain forest on the west end. It's surrounded by gorgeous beaches and wonderful tropical fauna.
St. Croix Things to Do
Beer Drinking Pigs

In the middle of the rain forest on Mahogany Road (RT 76)
340-713-9052
Yep you read correctly, Beer Drinking Pigs.
They've been featured on Inside Edition and many travel shows. You'll find them at the Montpellier Hut Domino Club in the rain forest.
While feeding the pigs some (non-alcoholic) beer be sure to try some "Mama Wanna" yourself....(hint: it's NOT non-alcoholic)
There's also a local restaurant at the Domino Club.
Check out our St Croix Restaurant Directory for more information and be sure to check out ROTI Friday at the Domino Club.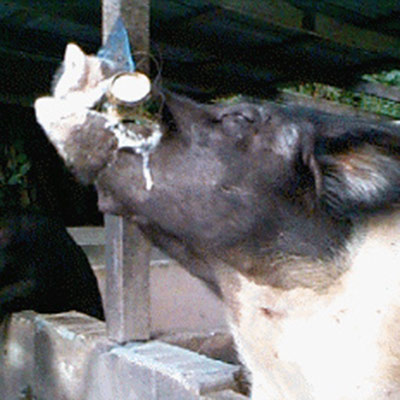 Carambola Zip Line
Located at the Carambola Golf Course
340-244-1464
Brand new and a LOT of fun. 3 different zip lines through scenic Fountain Valley.
You get driven to the first zip line and learn some St. Croix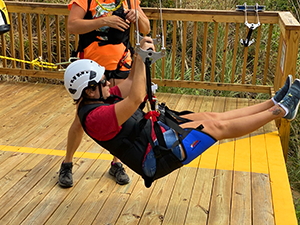 Cruzan Rum
Visitor Center Currently Closed
On West Airport Road
340-692-2280
The local St. Croix rum since the 1800's.
You can see it being made and sample some at their tasting bar.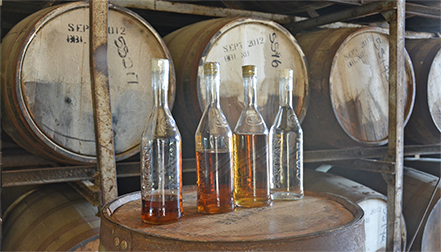 ---
Captain Morgan Rum
We're quite the "rum island" so along with Cruzan you can also visit the new Captain Morgan Rum Visitor's Center.
---
Duty Free Shopping
Duty free shopping along with a large selection of world class restaurants can be found in both Christiansted (the main town) and Frederiksted (on the west end of the island).
There's a Boardwalk that runs along Christiansted Harbor from the seaplane base on one end to the National Park Service Historical district on the other.
There's plenty of shopping, bars, restaurants, and of course our dive shop located all along the Boardwalk.
Gecko's Island Adventures (ATV)
Frederiksted
340-713-8820
A really fun way to get off the beaten path and see some of St. Croix most scenic areas.

Enjoy the Ride of Your Life! Gecko's Island Adventures provides every rider the opportunity to see St. Croix like no other tour. Experience 13 miles of Tropical Rain Forest, Panoramic Views of the Coast and Ancient Ruins.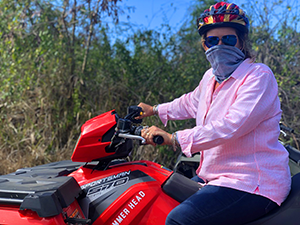 Sion Farm Distellery
4000 Sion Farm (behind United Shopping Plaza)
340-690-9322
This is the home of Mutiny Island Vodka where you can watch it being made, sample it's many flavors, have lunch or early dinner, and enjoy a really cool place. They do tours every hour on the half hour.
Weekly trivia and karoke nights too.
St. George Village
Botanical Gardens
On Centerline Road (RT 70)
340-
The Garden's mission is to conserve the native plant species of St. Croix, as well as threatened species of other Caribbean islands suited to local environmental conditions. In addition, the Garden preserves the ethno-botanical history of St. Croix through living, graphic and structural displays.

---
Whim Museum
TEMPORARILY CLOSED

Whim is the oldest sugar plantation museum in the Virgin Islands.
Exhibits and guided tours are designed to interpret the economics of a plantation, explain the procedures used in the cultivation and processing of sugar, and describe the everyday life of the people who lived and worked there.
---
Casinos
There's two of them and the nearest one is located right next door to the dive shop. Newly opened in early 2016 the Caravelle Casino features the latest in classic and contemporary slot machines. Some of the games are: Golden Eagle, Willie Wonka, Titanic, Party Time Progressive, Super Monopoly, Golden Goddess, Sphinx 3D and Heat Wave.
On the east end of the island there's the DIVI Carina Bay Casino. Try your hand at table game classics such as Blackjack, Roulette, and Craps or explore options like Three-Card Poker, Mississippi Stud or live Texas Hold 'Em. Divi Casino offers a wide selection of challenging table games for seasoned players as well as newcomers.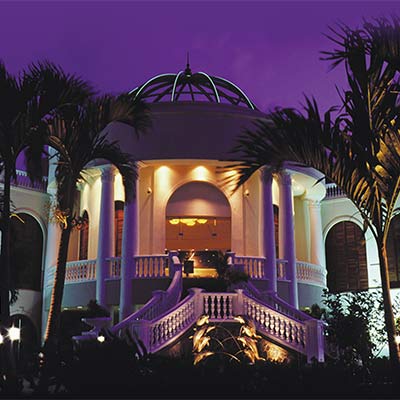 Things to See on St. Croix
Point Udall
The easternmost point of the U.S., has breathtaking views of the eastern end of the island. It's a bit of a drive but it's very scenic. If you're an early riser you can be the first in the U.S. to see the sunrise.
The millennium monument, built in 2000, makes a great backdrop for pictures.
---
The Rain Forest
On St. Croix's western end is absolutely beautiful. There are scenic trails that run along the top of the rain forest and Mahagony Road which runs through the middle of it (and where you'll find the Beer Drinking Pigs mentioned above).
Hiking, biking, horseback riding, and ATV tours are all great ways of seeing this wonderfully beautful forest.
(Personal note: I just wish we had monkees and parrots but at least we have the beer drinking pigs).
---